Preventing ENL with an addition to MDT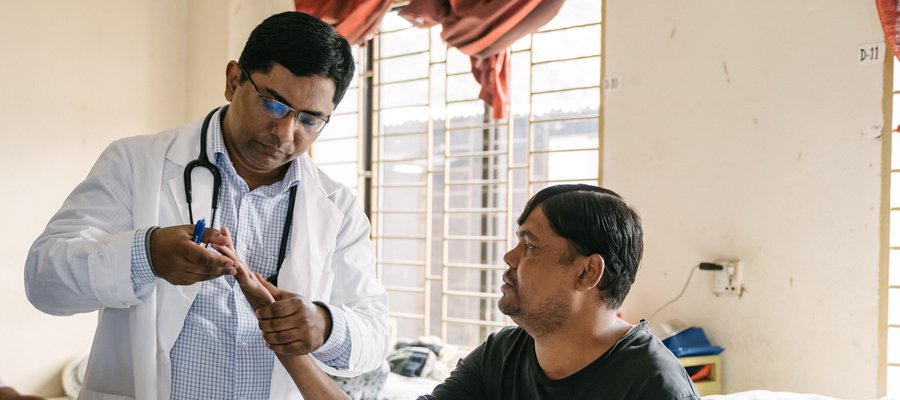 ENL Reactions offer some of the worst that leprosy has to offer
If leprosy is not treated quickly, the bacteria in the body are allowed to build up so high that even after antibiotic treatment, residues can remain for years. These residues increase the risk that a patient will experience an inflammatory episode, called a leprosy reaction. These leprosy reactions are the main cause of nerve damage and disability development.
There are two types of leprosy reaction: Type 1 Reaction causes inflammation only where the leprosy bacteria are located. Type 2 Reaction (ENL - Erythema Nodosum Leprosum) can affect the whole body and causes much worse symptoms for a much longer time.
When ENL develops, the whole body develops symptoms. Patients have a fever and incredibly inflamed skin legions all over their body. They can experience severe pain in their skin, bones, muscles, eyes and/or testicles.
An opportunity to prevent ENL
Our team of researchers in Bangladesh are considering whether providing an extra dose of Clofazimine could be a way to prevent patients from developing ENL. Clofazimine is one of the drugs that comprises MDT and although it's primarily an anti-bacterial, in high doses it also acts as an anti-inflammatory.
By providing an extra dose of Clofazimine with MDT, our researchers hope that patients will be less exposed to inflammation. The researchers are currently working with an intervention group and a control group to establish whether this research will be effective.
Although it is only in its early stages, the hope that this intervention could prevent patients from experiencing the trauma of ENL is one that we're taking very seriously.