Inclusive Empowerment India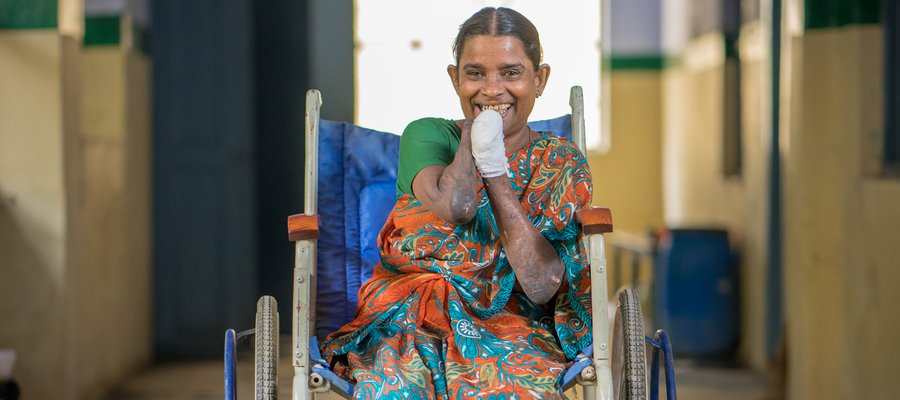 What?
Inclusive Empowerment India works in three districts of Tamil Nadu to support people affected by leprosy to manage their disability, to find their own voice within local and district decision making, and to provide for their own families through sustainable livelihood programmes.
Why?
As part of TLM's commitment to seeing zero leprosy–related disability, it works throughout the world to provide people affected with the disease with the knowledge, skills, and medical help to manage their symptoms. In this part of India, there was a need to increase access to disability care.
The advocacy aspect of the programme enables TLM to deliver its commitment to zero discrimination against people affected by leprosy by increasing their voice in decision making, and making it the norm to include their needs in the design of local services.
How?
Working with the local leprosy hospitals, the Inclusive Empowerment project provides traveling medical and rehabilitation services via a mobile therapy van, meaning medical support and surgery can reach people in remote areas. This is supported by working through local self-care groups to help people manage their own conditions on a day to day basis.
Since having a regular income helps people and families affected by leprosy to be self-sufficient, the project also works with local businesses and families to find ways of employing people and creative ways of earning money by creating products that can be marketed and sold locally.
To ensure that the voice of people affected by leprosy is heard by decision-makers, the project also works through local community groups to train volunteers to speak about their own experiences and put themselves forward for local elections so that they can be active in local politics.
Where?
Cuddalore, Kallakurichi and Vilupuram Districts in Tamil Nadu, India
Challenges
The Covid-19 lockdowns have been challenging, because they have slowed down, or stopped, many of the local businesses that had been helping people affected by leprosy to earn a living.
However, some of these businesses were eligible for government support, and the project was able to help others to produce and market their goods locally. The project team was also registered as one of the key teams to help restore the livelihoods of people affected by the lockdowns, and has worked closely with local government to deliver practical ration packs and safety materials to local communities.
Successes
People affected by leprosy are now taking leadership roles in district level federations, which enables them to raise their voices at the different levels of decision making. This builds on the hard work that has taken place at a local level through training programmes to encourage people to speak about their own experiences.