Why don't our hospitals only focus on leprosy?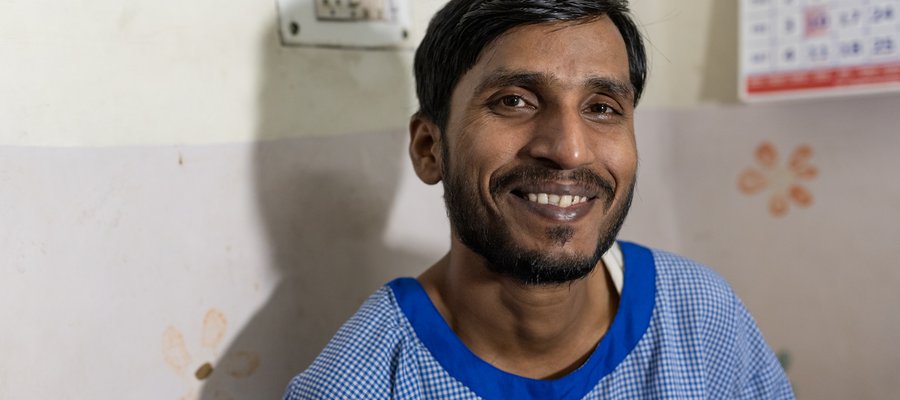 The Leprosy Mission's goal is to see leprosy defeated. We want to see the end of leprosy transmission by 2035 and we want to work towards a world without leprosy-related disability and leprosy stigma.
Our hospitals are part of that crucial work, but they do a lot more than that. They offer general and specialised medical support to their communities in areas as diverse as ophthalmology, counselling, physiotherapy, dermatology, x-ray and laboratory services, gynaecology and obstetrics, pharmacies, occupational therapy, general medicine, and more.
So why don't our hospitals only focus on leprosy? And how does this broader focus help us to achieve our goal of zero leprosy? Dr Rajeev Nathan, Medical Superintendent of TLM Community Hospital, New Delhi, explains more.
Why does TLM offer these diverse services?
Our hospital is situated in the Shahdara of Delhi, which is on the outskirts of Delhi, adjoining Uttar-Pradesh. It's a hospital that is surrounded by a number of leprosy colonies and a number of areas that are home to many destitute and marginalised groups.
There are government services available in these areas, but the demand is huge. We have an opportunity and a responsibility to offer care for these communities. They are willing to pay a nominal amount to access the quality and affordable services we offer.
The reality is that some of the marginalised people we support would face stigma and discrimination at the other hospitals in the area. They won't encounter that at our hospital. With us, everyone is treated equally and with respect.
We offer these diverse services because our community needs them and we have the capacity and the infrastructure to offer them. We also offer these services because, in doing so, we are defeating leprosy.
How does this broader focus help us to achieve zero leprosy?
Firstly, the income we receive from offering these broader services helps to fund our leprosy services. That's a small but important thing to note. The most important thing to note is how these services change attitudes towards leprosy.
Our hospital is a unique experience for many who visit it. For the first time they encounter an environment where there is no discrimination. With us, everyone has an equal right to high-quality, affordable healthcare. The impact of that is huge. Over many years, people have received and heard about the quality care that their local hospital offers. They come to identify our leprosy hospital as their own and they develop a long association with TLM and everything we stand for.
The community members have confidence in us, which means they come to us at an early stage of whatever problem they are facing, when the problem is at its most treatable. That includes leprosy.
So you see how these services change our community's attitude towards leprosy and towards TLM. Through these services we demonstrate non-discrimination and we normalise leprosy, which leads to a better experience for persons affected by leprosy in their community.
Client satisfaction at our hospital is very high, which results in word-of-mouth publicity well outside the catchment area of the hospital. People travel to see us from as far away as Punjab in the west, West Bengal in the east, Kashmir in the north and Madhya Pradesh in the south. These are people from all walks of life.
With 14 hospitals across India, we are able to change attitudes to leprosy among a huge number of people and play a significant role in defeating leprosy.