Lessons from the frontline of mental health and leprosy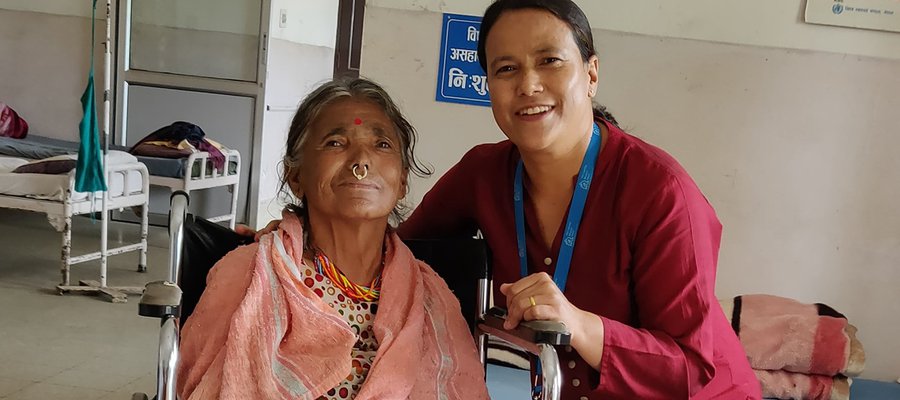 Ruth and Bishnu from TLM Nepal are responsible for supporting persons affected by leprosy with their mental wellbeing, both in the community and at Anandaban Hospital. Here they share some of the lessons they've learnt from the frontline of mental health care for persons affected by leprosy.
A leprosy diagnosis can cause mental health problems that weren't there before
There's so much stigma that surrounds leprosy. It is very hard for a person to be told they have leprosy and it can be very difficult for people to accept themselves after that. It starts them on a difficult journey of telling family members and their community. They know that each time they tell someone, they risk stigma and rejection.
Even if a person decides not to tell anyone and to keep the news a secret, this privacy and hiding can take a toll on a person.
The treatment for leprosy (Multi Drug Therapy) can cause skin colour to darken, as well. In communities across Nepal, this darkening of the skin is perceived negatively and can lead to further stigma.
Amidst all of these worries, it is no wonder that a person's mental health is damaged. This is even more true when that person loses their support networks because their family has isolated them and they no longer have people to whom they can turn for support.
People often aren't aware of 'mental health' and it's better not to name it
When we talk to patients about their mental health we try to avoid the term 'mental health' altogether. Many patients don't understand the term and it makes them feel uncomfortable, which makes it harder to talk to them. Instead, we ask questions to find out if patients are struggling with sleep, if they find that they want to be alone, or if they are quicker to anger and frustration than they were before.
We also check whether they are having, or have had any, negative thoughts, suicidal thoughts, feeling of helplessness, low self-esteem, or worries about the future. We determine whether this is behaviour that has developed after being diagnosed with leprosy.
As we go through this process, we sometimes come to realise that a person is in need of more than basic counselling and would benefit from the support of a psychiatrist. However, this can cause problems, as well. When patients are told that we are arranging for them to see a psychiatrist, they can look at us with fear. They worry that, as well as the leprosy diagnosis, they have been diagnosed with something else that can be just as stigmatising.
Through our work we have seen that mental health has not always been easy to talk about, which is why we have increased our mental health training. On World Mental Health Day in October, we worked on a small awareness raising campaign amongst the patients and staff at Anandaban Hospital. There is still a long way to go, but we will continue to talk about mental health. Even if we don't always use this term, we make them aware that mental health is as important as physical health.
Collecting more data is key for us as we move forward
As we work with patients on their mental health, we go through an NHS Scotland wellbeing screening tool with them. The tool asks questions that help us to understand how a person is feeling without asking them directly about mental health.
We are using this tool at Anandaban Hospital and within the community. It has been invaluable in helping us to collect data about patients wellbeing. This data will allow us to direct resources, perfect referral pathways, and help us to train appropriate numbers of project workers to provide counselling support. In time, we will publish this data in a paper that we hope will inform other leprosy programmes who wish to grow their mental health support.
This work is growing – it's important
Most of the leprosy patients we encounter have mild and moderate level mental health problems rather than sever ones. Most struggle because they can't participate in the community and they can't enjoy their lives as they had.
Those patients who need extra support will be referred for psychiatric care, but most need psychosocial support to empower them to handle their situation. It is important to listen, understand, and provide comfort because many people isolate themselves after a leprosy diagnosis because of low self-esteem.
We have big plans to grow this work in the future. We are planning to train more project workers to offer counselling support, such as peer support through a psychosocial support group. We are also hoping to connect more people affected by leprosy so that they can talk to one another about the mental health challenges they are facing.
We believe these counselling interventions are going to have a big impact in Nepal. We are trying to work on an effective mental health support system for leprosy patients in the community and at Anandaban Hospital.