King Viserys' Illness: What did House of the Dragon get right and wrong?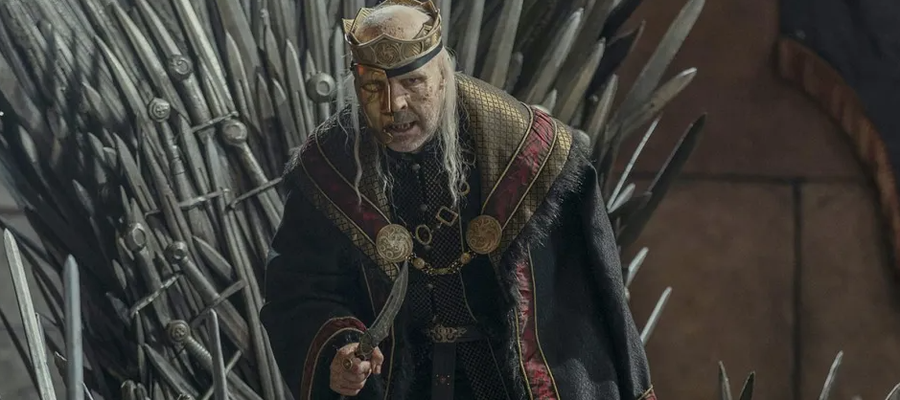 The House of the Dragon is the new Games of Thrones prequel series that focuses on the Targaryen family in Westeros. Throughout the series, King Viserys has been becoming more and more ill with a mystery disease.
Viserys' actor, Paddy Considine, revealed on the West of Westeros podcast that the king is suffering from a 'form of leprosy'. But how close is this disease to leprosy in reality? As the world's oldest and largest leprosy NGO, we do a deep dive on whether the king really does have leprosy, their depiction of leprosy in a time before modern medicine, and how this compares to the reality of today.
What did they get right?
If King Viserys really did have leprosy, the show's creators have got a few things right.
Leprosy can affect anyone
Firstly, many people think that leprosy is a disease that only affects the poorest. Whilst people with limited access to clean water and a nutritious diet tend to be more at risk, leprosy could affect anyone. Given the stereotypes, it is refreshing to see a show demonstrating that even a king could experience leprosy.
Donate today so that we can create a world without leprosy >
Leprosy is not highly contagious
Next on the list of what they got right is the fact that no one else in the show has developed the disease. Transmission is likely to be from long term, close contact, and exposure to droplets from sneezing or breathing, and/or skin abrasions or wounds. Leprosy is infectious; but most exposed will never develop disease.
Around 95 percent of people in the world have an immune system that is able to fight off leprosy bacteria so they never develop disease. Although your risk of developing leprosy increases if you live with someone who is infectious, you are still not at a great deal of risk. Our research reveals that only 2 percent of people who have lived with a person affected by leprosy will contract the disease. This explains why he was the only character in the show who has the disease.
Leprosy is a slow moving disease
The show has got the speed of the disease correct. King Viserys has lived with leprosy for many decades and the disease has grown very slowly. The leprosy bacteria is one of the slowest growing bacteria in the world and leprosy is a disease with a very long incubation period; many people won't show symptoms of the disease until years after they were exposed to it and the symptoms may take some time before they become severe.
Like King Viserys in episode 8 of the show, leprosy can eventually make you very unwell if you don't receive the proper treatment. There is a form of leprosy known as ENL, which is when the body reacts to the a build up of leprosy bacteria over a long period of time. This can cause a lot of pain. Long term nerve damage can also cause chronic pain.
They portrayed what happens if a person never receives modern medical treatments
The show's portrayal of leprosy is really, really extreme, but that is because they portrayed the leprosy that you see only when a person has not received modern medical treatments and has had the disease progress very seriously over many decades. The cure for leprosy today is Multi-Drug Therapy, which is a combination of antibiotics that cures leprosy and is freely available across the world. Because of this, it is possible for people to experience no impairments and long term consequences of leprosy; the disease won't leave a mark. If you want to see what modern leprosy really looks like, have a scroll through our website!
Sadly, there are many people who are do not receive Multi-Drug Therapy soon enough and they do experience long term damage to their bodies, particularly around the hands, feet, and eyes. This is why we are working hard to find and treat all cases of leprosy in the world today, with a goal of ending leprosy transmission by 2035.
What did they get wrong?
Some of the disfigurements were a little wild, even for a time before modern medicine
In the past, before leprosy treatments had developed with modern medicine, the disease was often hugely disfiguring. The show perhaps used a bit of creative license by giving him an eyeball that had fallen out and a hole in his cheek, which is a little unlikely. Although perhaps not as unlikely as still being able to talk clearly with a cheek missing!
That being said, even with today's modern medicine, a person may lose feeling in the eye, which means they stop blinking because they cannot feel their eye becoming dry or the dirt that is between the eyeball and the eyelid. Over time, this dirt scratches the lens of the eye, which leads to blindness, like looking through glasses someone has scratched up.
Even today, one in five of the more serious leprosy cases will experience sight-threatening damage to their eyes because of leprosy. It's one of the many reasons we have to work hard to find cases of leprosy early, when we can still prevent impairments such as this.
King Viserys did not experience the usual leprosy symptoms
If King Viserys did have leprosy that went untreated then we might have expected to see the damage to his body to be focused around his hands and his feet, which remained largely unscathed, as well as to his eyes.
Disability development in the eyes, hands and feet are trademark signs of severe leprosy. Leprosy bacteria tend to congregate primarily in the knees and elbows (as well as near the eyes), which causes damage to hands and feet. He might have developed clawed hands or serious nerve damage to the fingers. Equally, we might have seen drop foot, which is where a foot will drag along the ground when you walk, rather than pointing up. These things don't always happen with severe leprosy cases, but they might been some things we expected to see.
The King's family stuck by him
One of the saddest realities of leprosy, both today and in the past, is that it too often comes with huge stigma. Unfortunately there are far too many people today who have experienced leprosy and have been rejected by their families.
It was pleasing to see that this was not the case with King Viserys, whose family stuck by him - or as much as a family in the Game of Thrones universe ever does. It's a reminder that families across the world should stand by their loved ones who have experienced leprosy and that we can all help to end leprosy stigma by battling the myths when we see them.
The King didn't experience any obvious mental health difficulties
Because leprosy is a disease that brings a lot of stigma and can lead to long-term impairments and chronic pain, it is a disease that often comes with mental health challenges. This is something that is even more likely if you have lost the support of your family and friends. Around 1 in 2 persons affected by leprosy have had suicidal thoughts at some point in their lives. King Viserys may have experienced mental health challenges, but the show didn't portray this. Leprosy does not always lead to mental health problems, but it is common enough that we might have expected it with the king.
Did King Viserys have leprosy?
Yes, he might have done, but it was a very, very extreme form of leprosy and something that is entirely preventable with modern medicine.
It is a reminder to us that scientists estimate there are millions of people across the world who have leprosy but have not been diagnosed and treated. To ensure no cases of leprosy become anywhere near as extreme as King Viserys' ancient example, organisations like The Leprosy Mission and our partners have to keep raising awareness of the disease, as well as finding and treating anyone who has developed it.
---
Today, one person is diagnosed with leprosy every two minutes. Without treatment, the disease can cause serious damage and there are millions of people around the world living with preventable long-term disabilities because of leprosy. Leprosy is a disease surrounded by horrible myths and stigma and this too often robs people of their families, friends, job, education, and homes.
The Leprosy Mission believes we have the tools to end this 4,000 year old disease by 2035, all we need is the right resources. If you want to be a part of the generation that ends leprosy for good, you can contribute today.