How does leprosy damage eyes?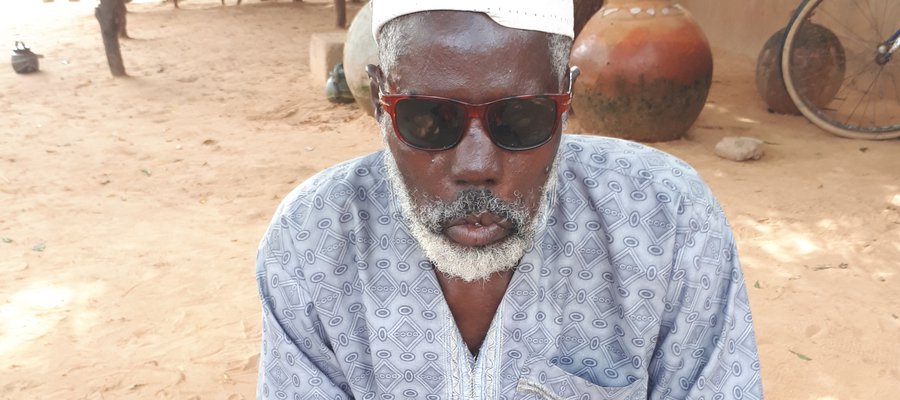 Eye damage is caused by slow treatment leading to nerve damage
Leprosy is easily cured with antibiotics. The treatment is known as Multi Drug Therapy (MDT) and is freely available. Sadly, too many people don't recognise the symptoms of leprosy so they don't speak to a doctor. Meanwhile, there are other people fear the stigma that surrounds leprosy and so they don't come forward for treatment.
This delayed treatment leads to nerve damage around the knees, elbows, and face. Nerve damage can lead to damage to the eyes, as can direct infiltration of the eye with M. leprae (the germ that causes leprosy).
Nerve damage can lead to a loss of feeling of the eyes, causing eye damage
If our eyes hurt, this is a sign that something is wrong and it needs to be fixed. Perhaps there is some dust or sand in the eye and it needs to be cleared out, perhaps our eyes have become dry and we need to blink to correct the dryness.
If nerves in your face have been damaged due to delayed leprosy treatment, you can lose the feeling in your eyes and you do not feel the pain that tell us something needs to be fixed. This means you do not notice the sand in your eye or the dryness of your eyes.
A lack of feeling in the eyes means that the eyes can become badly damaged before a problem is noticed. This damage can mean your eyes become scratched, which can be like looking through a pair of eyeglasses that are scratched.
Nerve damage can lead to difficulties closing the eye, causing eye damage
If leprosy has damaged nerves in your face, this can prevent you from closing your eyes properly. When you try to close your eyes, damage caused by leprosy means that the eyelid does not close, but stays open instead.
Our eyelids protect our eyes, when we are sleeping, for example. They also clean our eyes when we blink. Not being able to close our eyelids can lead to damage and, if this is untreated, it can lead to blindness.
Direct infiltration of M. leprae can cause eye damage
The front of the eye is cooler than the rest of the body, so is a perfect place for M. leprae to multiply. Inflammation of the coloured part of the eye (the iris) can cause redness, pain, and if untreated can lead to blindness.
Preventing and treating eye damage is easily done
To prevent damage to the eyes caused by leprosy, seek treatment for the disease as soon as you spot the earliest symptoms of the disease, which are skin patches that have no sense of feeling. If you spot these symptoms, come forward to receive free MDT treatment.
If your eyes have already been damaged by leprosy, there are things you can do to prevent further damage. You can do this by remembering to close your eyes often. You can also wear glasses, a hat, or a shawl to keep sand and dust away from your eyes. When sleeping, you can tie a cloth loosely over your eyes to protect them.
Read more about caring for your eyes in this leprosy guide.
Read more about leprosy disabilities here.