North West Bangladesh Ultra Poverty Initiative Project (NUPIP)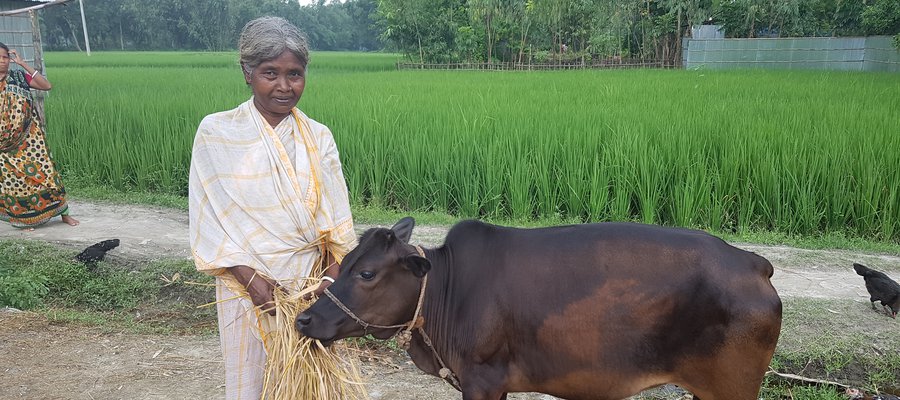 What?
NUPIP helps the 'ultra' poor affected by leprosy to look after their own health and find sustainable ways of making a living, whilst tackling stigma. It also offers practical help, repairing transport – such as bicycles – and ensuring homes are weather-proof.
Why?
The Leprosy Mission is committed to seeing both zero disability from leprosy and zero discrimination against those living with the disease. In this area of Bangladesh, poor people affected by leprosy found it difficult to look after their own health, whilst stigma prevented them from accessing loans, or even the disability allowances that they were entitled to.
How?
Through local groups, the project promotes 'self-care' to prevent symptoms such as ulcers, and works with the local health system to support patients who are living below the poverty line by providing income-generating activities. This could be loaning a cow – which can provide milk, and be repaid with the sale of a calf – or helping to access land. NUPIP also advocates with local government to ensure that disability allowances are paid.
Partners
The project works with local health groups, hospitals and local government.
Challenges
Covid-19 restrictions made it challenging to implement some field activities, but NUPIP kept in touch with members by phone and were still able to provide some income-generating activities –land, or cows, for example – without having to travel.
Funding partner effect:hope provided emergency help, distributing food packages just before Eid, whilst NUPIP ensured adequate safety equipment and training were provided.
There was also an unexpected cattle pandemic, which meant NUPIP had to spend money treating many of the members' cows; some were healed, others unfortunately died.
Successes
One mother, Hasina, whose husband was thinking about leaving her when she was diagnosed with leprosy, remained happily married after NUPIP staff explained that treatment was possible, and also provided the family with a cow to help their finances. Hasina now gets 1 litre of milk every day, and is making a profit from selling cow dung and produce grown in her kitchen garden. She says:
'I am now happy, now we take three meals [a] day, which was difficult for us. I am now owner of cows and grocery and feeling proud'.