Ana Ivonia's Statement to the CRPD Conference 2023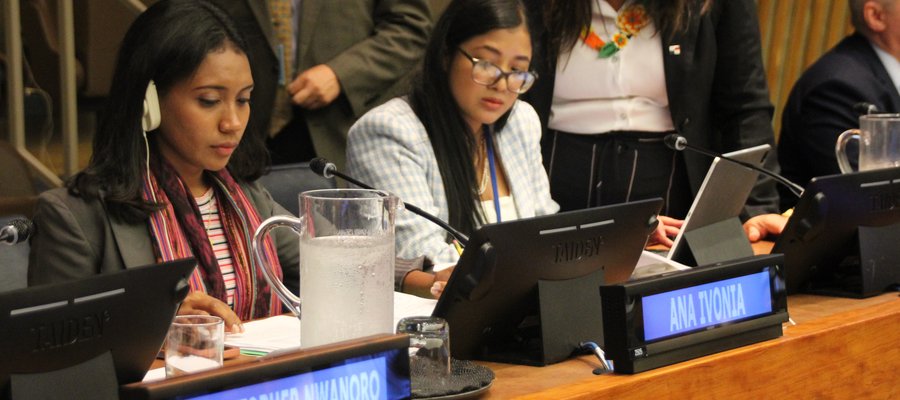 Thank you for this opportunity.
Distinguished guests, Delegates, ladies and gentlemen, it is my great pleasure and honour to be here and to be the representative of millions of persons affected by leprosy today.
I am Ana Ivonia from Timor-Leste. I am 22 years old, I am the 4th of 6 siblings, and I am currently studying Public Health whilst supporting the work of The Leprosy Mission and the Leprosy Association in Timor Leste.
I was diagnosed with leprosy in 2019, when The Leprosy Mission did health promotion in my village and screened my family. I had skin patches in my left hand big enough for people to see from a distance. It had weakened my fingers and they had started to claw. Those I met would look at me with disgust. The patches had been with me for about 5 years, following me throughout my high school experience. The suffering was not only physical, but mental and social too.
I believe that all of you here experienced physical and social distance during Covid. Did any of you enjoy that isolation and loneliness? Because of the stigma of leprosy, a preventable, curable, mildly infectious disease, that was my high school experience. I didn't have friends at high school; even my very closest neighbours didn't want to get close to me. Even today, I feel like I still experience this isolation when people find out that I had leprosy.
This is what the voice of an under-represented person sounds like. Because my story is not unique among persons affected by leprosy. Millions of us have stories of rights stolen; stigma, fear, and discriminatory laws rob us of the right to education, to jobs, to family, to health, and to so much more.
We have heard the global slogan of leaving no one behind, but we still feel we haven't been included yet. If you want to reach under-represented groups of persons with disabilities, you could start with the millions of persons affected by leprosy across Asia, Africa, and South America. You could expand that to the 1.7 billion people like me who are affected by Neglected Tropical Diseases.
If you are listening to my words right now, I ask you, how do you relate to leprosy and to NTDs? How can you ensure our voices and our rights are included? We are organised associations of persons affected, we have strong grassroots networks, we can help you to reach the under-represented voices of young people, older persons, women, people in rural communities, in poor communities, and in small nations like Timor-Leste. Across the world, we are looking to partner with the people, organisations, and governments that are represented at this conference. So seek us out and find partnership with us.
We are tired of not seeing change. I ask you to take action so that this Roundtable is more than just words, but becomes about achieving rights. Thank you for your time.
--
You can watch Ivonia deliver the statement below.