Dr. Rishad Choudhury Robin
Dr. Rishad Choudhury Robin
Senior Research Technical Lead - Strengthening Capacity for Operational Research Excellence in Bangladesh (SCORE)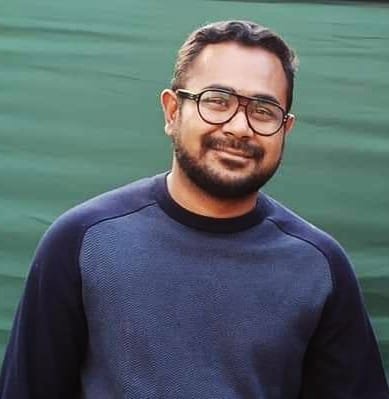 Dr Rishad holds a Doctorate of Public Health (DrPH) from Naresuan University, Thailand, a Masters in Public Health (MPH) from American International University-Bangladesh, a Bachelor of Dental Surgery (BDS) from the University of Dhaka, and a Post Graduate Diploma in Hospital Administration (PGDHA) from Apollo Hospital Educational and Research Foundation in India.
Before joining The Leprosy Mission, Dr. Rishad worked with the World Health Organization - Bangladesh (WHO), United Hospital Limited, The University of South Asia, Shomman Foundation (NGO) in Bangladesh and Nareusan University in Thailand.
Dr Rishad joined The Leprosy Mission in 2021 and manages the Strengthening Capacity for Operational Research Excellence in Bangladesh (SCORE) project, which seeks to build capacity across The Leprosy Mission's team in Bangladesh to design, implement and publish operational research in partnership with Bangladeshi universities and research institutions.
Publications:
Robin RC, Ishtiak ASM, Chaity RF, Noosorn N. The perspective of the adult's on exposure to passive smoking on their children in the rural area, Bangladesh: A qualitative approach. Journal of Health Science and Alternative Medicine (2021) 3(3): 14-21.
Noosorn N, Anukool M, Robin RC. Social measures for reducing exposure to secondhand smoke in migrant workers of sugarcane harvest in the lower northern region of Thailand. Tob Induc Dis. 2021 Sep 23;19:73.
Rabbani G, Shariful Islam SM, Rahman MA, Amin N, Marzan B, Robin RC, et al.Preexisting COPD is associated with an increased risk of mortality and severity in COVID-19: a rapid systematic review and meta-analysis. Expert review of respiratory medicine. 2021 May; 15(5):705-716.
Alam MT, Murshed R, Gomes PF, Masud ZM, Saber S, Chaklader MA, Khanam F,Hossain M, Momen ABIM, Yasmin N, Alam RF, Sultana A, Robin RC. Ivermectin as Pre-exposure Prophylaxis for COVID-19 among Healthcare Providers in a Selected Tertiary Hospital in Dhaka – An Observational Study. European Journal of Medical and Health Sciences. 2020; 2(6).
Noosorn N, Phetphum C, Robin RC. Agriculture Sector Women's Alcohol Drinking Pattern and Behavior in the Lower Northern Region of Thailand. Journal of Drug and Alcohol Research. 2020;9(2020).
Robin RC, Noosorn N, Alif SM.Secondhand Smoking Among Children in Rural Households: A Community Based Cross-Sectional Study in Bangladesh. Osong Public Health Res Perspect. 2020;11(4):201-8.
Robin RC, Noosorn N, Chaity RR.Knowledge and perception among rural adults toward passive smoking exposure on children - A case study from Bangladesh. Journal of Health Science and Alternative Medicine. 2020;2(2).
Alam MT, Murshed R, Bhiuyan E, Saber S, Alam R, Robin RC. A Case Series of 100 COVID- 19 Positive Patients Treated with Combination of Ivermectin and Doxycycline. Journal of Bangladesh College of Physicians and Surgeons, 2020, 38 (Supplement Issue)
Robin RC, Noosorn N. Reducing Children's Exposure to Passive Smoking in Rural Communities of Bangladesh: An Application of the Theory of Planned Behavior. Journal of research in health sciences. 2019;19(4):e00463.
Noosorn N, Phetpoom J, YAU S, Robin RC. Alcohol Consumption among Migrant Workers in Communities of Lower Northern Region of Thailand. International Journal of Medical Research & Health Sciences, 2020, 9(1): 44-56.
Robin RC, Noosorn N. Reducing harm of passive smoking exposure among children. International Journal of Health Sciences and Research. 2018; 8(2):288-296
Yasmeen M, Murshed R, Robin RC. Fallacy of Free Treatment. Bangladesh Journal of Political Economy. 2011;27(1,2)