Sudha Rani, a fearful and fierce grandmother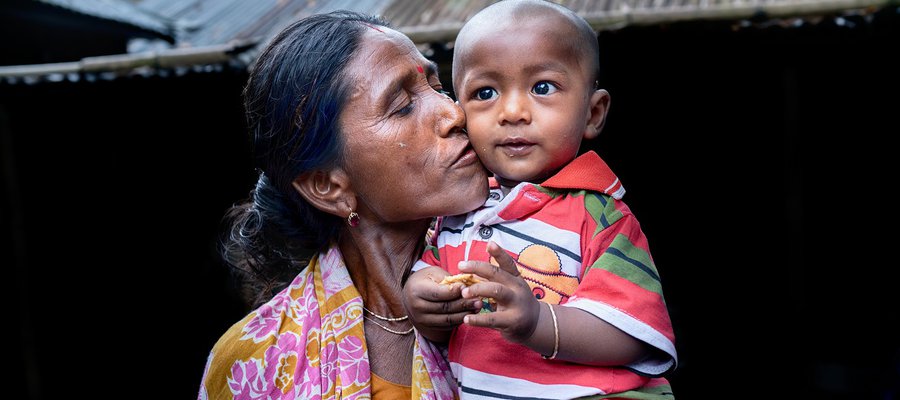 Sudha Rani is from Bangladesh. She was diagnosed with leprosy six years ago and has spent a long time coming to terms with the roller coaster of emotions that leprosy often brings.
Sudha was afraid when she was diagnosed
"I was terrified. I have seen how people humiliate and look down on people living with leprosy. My oldest daughter had just been married at that time. It would have been devastating if her in-laws found out about my disease.
"I have seen many people affected by leprosy. There is even a leprosy patient near my house and no one would go near him. I always helped him during his sickness. Every time anyone from my community falls sick, I help them with my care and support.
"My village doctor advised me to go to The Leprosy Mission's hospital and I was immediately admitted. It could have been disastrous if I had not gone to the hospital. I felt relief when I arrived; I felt safe there."
She recovered her confidence at TLM's hospital
"At the hospital there were leprosy patients from everywhere in Bangladesh, rich, poor, educated, and uneducated. I have seen people of different religions, castes, and races. But the doctors and nurses never discriminate against anyone. To them, serving us was like serving God's creation. That was the time when I gained back my trust in life.
"I was still worried about my children. People used to believe leprosy is a result of sin or a parents' sin and there are immense sufferings because of this."
Sudha persevered through stigma to achieve a life of happiness
"There was stigma around leprosy in the community, but The Leprosy Mission's team changed that. We had set up a self-help group of nine people in our community that was supported by a local Federation. The Leprosy Mission's team came to offer us advice and support with this.
"Our community saw that these professional advisers came to see us, they listened to us, and they touched us. That changed everything and influenced others in the community to change their attitudes towards the disease of leprosy. The financial strength from the self-help group also gave us a sense dignity and self-worth.
"Things have changed a lot since then. Now everyone knows that I had treatment at the TLM hospital. People praise me for my courage in coming forward for treatment.
"My family love spending time with me. They don't hesitate to be near to me and touch me. I cook for my family and stay busy with the grandchildren. There is no longer any barrier between my family or community members.
"My elder sister lives in a neighbouring village and often visits. We are very close. There was once a time when I did not want to attend one of my daughter's weddings because I was ashamed of having leprosy. My sister scolded me for this and took me with her to the wedding. She has always supported me to fight against leprosy.
"Because of The Leprosy Mission's hospital and their services, I am living a new life with the love of my grandchildren."