Santosh, the young man with an entrepreneurial spirit driving him to provide for his young family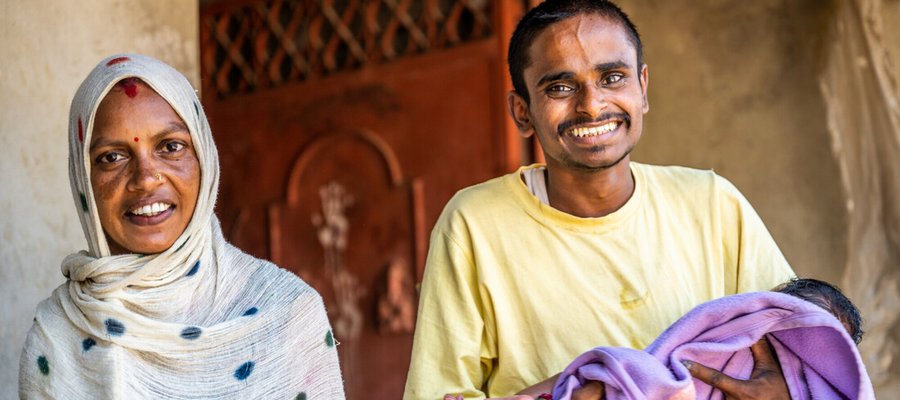 Santosh's help from Anandaban Hospital has given him a new start in life
At The Leprosy Mission's Anandaban Hospital, Santosh is well-known for his positive attitude and can-do spirit. He was diagnosed with leprosy at age seven, but his village came to love him for his infectious smile. Despite facing despair and depression, Santosh's story has turned around with the help of two artificial legs he received in 2019. He's determined to make things happen with an entrepreneurial spirit. Over the last five years, many positive changes have taken place, including the construction of a brick home on his family's land with the help of Anandaban Hospital staff. Now Santosh has a secure and accessible home that meets his needs.
He recently moved into a new home and acquired a motor scooter with stabilisers to help him maintain balance when stopping and starting in traffic. This newfound independence allowed him to try two jobs. His first job was as a delivery person, but he had to quit because some clients were not accommodating of his disability. He then worked as a shop assistant in a grocery store, but he faced abuse from customers and unrealistic expectations from his employer due to his double amputation.
Santosh has had hope through challenges
Despite facing various challenges, Santosh remains determined to find a way to support himself financially. He plans to purchase three milking buffaloes with the help of his mother and sell the milk in nearby towns and villages. Unfortunately, this requires a significant investment that he cannot currently afford. However, he is exploring other options to generate income and improve his situation.
New bundles of joy added to Santosh's family have given him a drive to succeed
One of the most significant changes in Santosh's life has been his arranged marriage to Manju, who has cerebral palsy. They recently welcomed a beautiful baby daughter, who was just months old. Santosh's eyes light up when he holds his daughter, and it's clear that he adores her.
Santosh is surrounded by friends and family from the village and he is clearly a very popular young man. So much of the first 20 years of his life he spent in hospitals due to the ulcers on his legs, but now he is beginning to see some of 'life in all its fullness