Why do we still have leprosy today?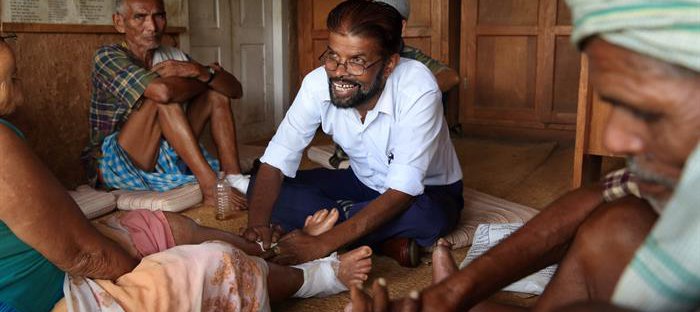 Many western countries are free from leprosy
Leprosy was spread across all of the world at one point, including Europe. Now, however, leprosy is a thing of the past in Europe.
Leprosy died out in Europe as extreme poverty died out. Households had more money which meant that access to food and clear water became more common. Leprosy is a disease that preys on the very poorest in our societies. Those who don't have access to clean water and sanitation and those who aren't able to get the right amount of calories and nutrients in their diets have weaker immune systems and are therefore prone to leprosy.
If we were to end extreme poverty across the world tomorrow, we would go a long way to stopping the spread of leprosy; there would be fewer cases diagnosed after that as immune systems became too strong for leprosy.
The challenge is to find everyone who has the disease
Leprosy is curable with a course of medicine known as multi-drug therapy (MDT). Once a person has been taking MDT for 72 hours, they are no longer infectious and are not able to spread the disease. If we were to find every person who has leprosy and provide them with MDT we would stop the spread of leprosy.
There are a number of challenges in finding every person affected by leprosy. Many people affected by the disease will have a mark on their skin, but they won't realise that it is leprosy, so they won't come forward for MDT treatment. Equally, there are people who recognise a patch on their skin as leprosy, but they are afraid to come forward for treatment because they fear that their family and community will reject them if they were diagnosed with leprosy.
The other challenge we face is the fact that there are cases of leprosy that are hidden in some of the most remote places on Earth. It is our goal to reach out to everyone in the countries we work in who is affected by the disease, no matter where they are.
As long as people are not being treated, we will continue to have leprosy in the world. Our goal is to raise knowledge of the disease and break down the stigma associated with it. We will also continue to reach into communities to try to find the many thousands of people affected by leprosy who are not receiving treatment yet.
The world is currently concerned with a fast spreading, highly infectious disease called Coronavirus;  unlike Coronavirus, leprosy is transmitted slowly and, once treated, it stops being infectious. We are confident that, with all of the programmes we have in place, we will be able to track down all cases of leprosy.
We won't have leprosy in the world for much longer
Much like leprosy was wiped out in Europe, we are now approaching a point when leprosy will be wiped out in Asia, Africa, and South America, as well. As we say 'good riddance' to extreme poverty and as we find and treat more and more cases of leprosy in communities across these continents, we will end the disease.  
By the year 2035 we believe that we will diagnose the last ever case of leprosy. So, whilst you now know why we still have leprosy in this world, you also know that we won't have it much longer. You are part of the generation that will end the oldest disease to man.
If you'd like to contribute to the fight to defeat leprosy by 2035, you can donate here >

Main image credit: Tom Bradley