What do you think about a world without leprosy?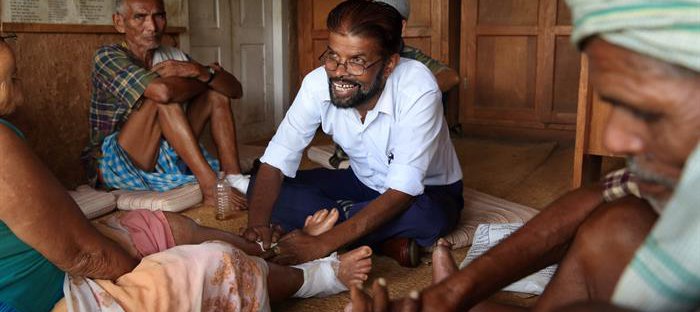 The Leprosy Mission has a primary goal: there will be no new cases of leprosy after 2035. Leprosy is an ancient disease, one of the oldest known to man. For millions of lives across the world, it can be all consuming. For those affected by leprosy, the diagnosis, the potential disability, and the almost frequent discrimination can feel like a constant presence. But what would it look like to be beyond 2035, in a world where no one is diagnosed with leprosy anymore?
Here are the perspectives of people at the heart of the fight: people affected by leprosy, people who have spent their entire working lives aiming for a world without leprosy, and people who have been supporting the fight for decades.
Jayashree P Kunju, India
Jayashree is a person affected by leprosy and CEO of IBAS Global in India.
"The disappearance of leprosy from Europe coincided with the improvement in the standard of living, including nutrition and better care for citizens by States. Countries like mine are struggling with overcrowding and people are living in conditions that fester diseases; leprosy is just one of those diseases. For me, a world that does not have leprosy signifies a world where everyone lives a life of dignity, having enough nutritious food to eat and decent living conditions. For me, it signifies dignity for all!
"Those affected by leprosy, including myself, would feel peace when that happens. We would reach a critical milestone of lifting people out of fear and insecurity that could last their entire life."
Mathias Duck, Paraguay
Mathias is a person affected by leprosy and an NGO consultant.
"I think that most of us would celebrate the end of leprosy transmission wholeheartedly. On the other hand, some of us are afraid that it might lead to people who are already affected being neglected and further stigmatised and discriminated against. We should absolutely be working towards and dreaming of a world where no one is diagnosed with leprosy, but everything must be framed within a comprehensive Human Rights Approach.
"Even when we reach a world where no one is going to be diagnosed with leprosy again, we'll still have millions living with the consequences of the disease. We must not forget them."
Peter Laubscher, South Africa
Peter has been working for The Leprosy Mission for decades in his native South Africa.
"For decades, people afflicted with leprosy and those who provide treatment have fought tirelessly  against this terrible affliction. By people who provide treatment I mean of course the people who have given sacrificially of their resources, who have prayed and the people who have delivered treatment in all its guises – tablets, surgery, physiotherapy, a word of comfort, a bandaged foot. We will have a joyous celebration. But I am deeply concerned those who need continuing care. It is so easy to forget about them, because 'leprosy has been stopped.' We need to be thinking and planning for their care, to make sure that it is deeply imbedded in our health systems. That will take fresh approaches and new networks; a deeper involvement by people affected be leprosy in sustaining and advocating for these services. We need to start that process long before the last patient throws their empty MDT blister pack in the bin."
Colin Osbourne, England
Colin is the Chairman of The Leprosy Mission's International Board and has been supporting TLM for decades.
"As someone who has been fundraising for TLM for over 50 years, it would be wonderful news to share with supporters that no one is being diagnosed with leprosy anymore; but also to emphasise to them that the fight is still not over and that we need to ensure that funds are still raised to support those already in our care who will need support in the years ahead – many for the rest of their lives. The work of the Mission will change but it will need to continue."