Karima's story of lockdown for a person affected by leprosy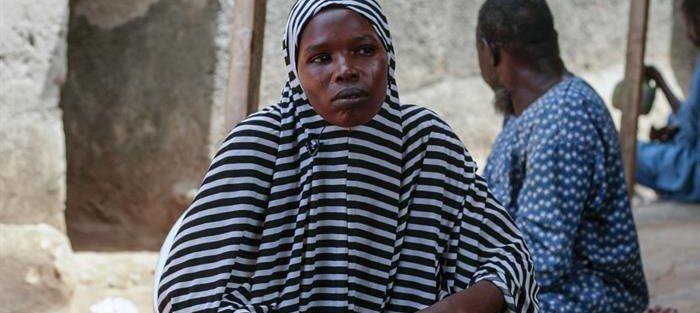 Karima is a person affected by leprosy from Nigeria. She has been learning to live amidst the lockdown caused by the Covid-19 pandemic. For her and her family it has become a question of survival.
How has your life changed since Covid-19?
It has not been very easy since the Government enforced the 'stay at home policy'. All we now do at home is sleep and sleep some more. I cannot go anywhere for fear of being arrested and this new disease is not making things easy for me as I and my family live in fear.
I was empowered with a grinding machine some time last year from The Leprosy Mission Nigeria (TLMN). The grinding machine has been very helpful in sustaining my family because the surrounding community members used to troop into my house to get their vegetables ground for a token. But since the lockdown, they do not come any more. This makes me feel sad.
Our savings are fast dwindling and our children are at home all the time and they need to eat. My husband is also stuck in the house with me, so he cannot go out to engage in menial jobs to cater for the family. We are so scared because if this continues for another week, we are doomed!
Are you able to get the information and support you need to face the virus?
No one is telling us anything. Except for our Officer from TLMN who came a few times to come tell us what this disease is all about and how to guard against it. She stressed washing of hands always with soap and covering of our mouth when sneezing and coughing.
When one of us gets sick, we self-medicate and pray for speedy recovery. This is because the hospitals do not attend to patients with other medical conditions currently for fear of Covid-19. This has put us in a constant fear for our lives.
We also need self-care materials so we can continue to practice self-care in our homes to avoid degeneration of our ulcers and thus visits to hospitals.
How have the restrictions on movement impacted on your life?
The lockdown has greatly impacted in my life because I cannot go to my friend's house to discuss any pressing emotional or psychological issues with her, neither can she come to mine. So, we all have to deal with our problems all by ourselves. It sometimes gets overwhelming such that I find myself lost in thoughts often.
Are the people in your community able to support you?
Everyone is on their own; they also need help so I cannot even dare ask for help from my friends in the community.
Is there anything in particular that you worry about?
I cannot go out to engage in petty trading, neither can my husband. I am worried about not being able to fend for my family during this period. I am also worried and fear that I or my family members may contract Covid-19 because we do not have access to hand sanitizers, anti-bacterial soap and face masks.