How crab farming has transformed a whole community in Papua New Guinea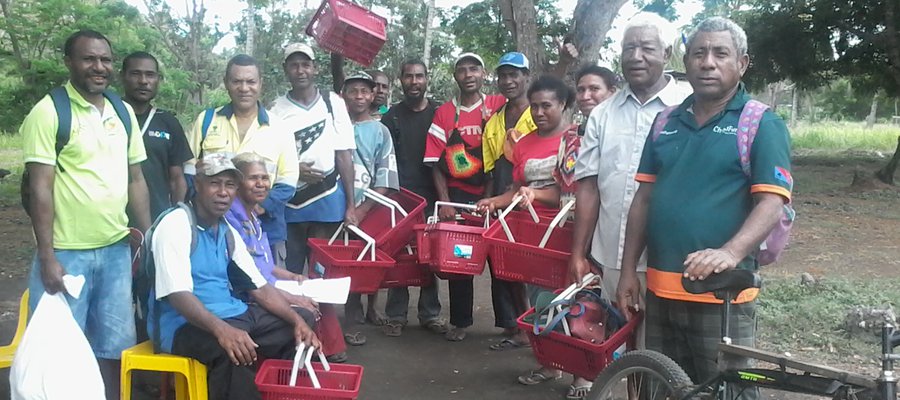 Blog by Aynsley Capehart
Papa New Guinea is no stranger to leprosy and poverty
Papa New Guinea is ranked as one of the poorest countries in the world, with 40 percent of the population living below the poverty line.
The country also records around 500 diagnosed cases of leprosy a year and thousands more go undiagnosed. Unfortunately, many persons affected by leprosy in PNG are also living below the poverty line.
The Leprosy Mission Papa New Guinea works alongside persons affected by leprosy to improve their conditions and strengthen their communities through livelihoods and self-care programmes.
In recent years, mud crab farming has become one of the most exciting ways to accomplish transformation. Following a successful pilot, we are looking to expand throughout the years to come.
Our spin on "teach a man to fish and you give him an occupation that will feed him for a lifetime."
Papa New Guinea's mud crabs are a sought-after delicacy across South East Asia. When we saw that one individual in a community affected by leprosy had developed an innovative new crab farming technique, we saw an opportunity to expand this throughout the community.
With support from community members, we have provided crab farming training and successfully created a path for a better future wherein community members can turn their new skills into a business.
Although we work with the whole community, our team primarily trains women from impoverished leprosy-affected backgrounds. As we continue to grow this project, we hope to get 250 women included in this training process.
Our main training activities
Our goal has been to increase the community's income and move them away from the poverty line. We train women in crab farming techniques and then teach them how to sell the crab through managing and marketing techniques.
Our training includes crab baiting, catching, handling, and crab feeding, fattening, and monitoring the crab's weight for growth. Then, in combination with quality control and training the community on how to market and distribute the crab, we also give lessons on financial management and essential money-keeping skills like saving and budgeting.
We are able to carry out our training by identifying farm locations, developing walkways to attach crab cages, and implementing infrastructures like mud crab stocks, crab hatchery, and crab raising facilities.
Ensuring our training is environmentally friendly and sustainable
In the past, Papa New Guinea's farming methods have used chemicals and fertilizers that contaminated the waterways and devastated forests. This type of pollution and deforestation has led to erosion, flooding, and the damage of 70 percent of coastal mangroves. We also know that 85 percent of global fish stocks are over-exploited, with overfishing and climate change leading to a significant decline in aquatic food sources.
To combat some of these environmental damages, our team plans to regenerate over 150,000 acres of land to repopulate the ecosystem. We also support the natural ecosystem through hatcheries and stock replenishment and, most importantly, teach communities how to farm without chemicals or additives. We also host monthly farmer meetings to encourage members to participate and share their ideas, concerns, and solutions.
Our team gives the community members the knowledge and resources they need to change their farming habits to make them more environmentally sustainable.
The joy of empowerment
By training women to crab farm and thereby increasing women's economic contribution, we help them be financially and economically independent, decreasing gender-based violence and the stigma surrounding women and persons affected by leprosy.
Through giving them the confidence that they have the right skill set to handle a business, our training in crab farming helps community members feel empowered to take the initiative to become businesspeople.
The members of this Papa New Guinea community are proud farmers who now hold their future in their own hands. We're excited to see this project grow as we continue to seek new funding to expand!