Covid-19: how do we grow from this experience?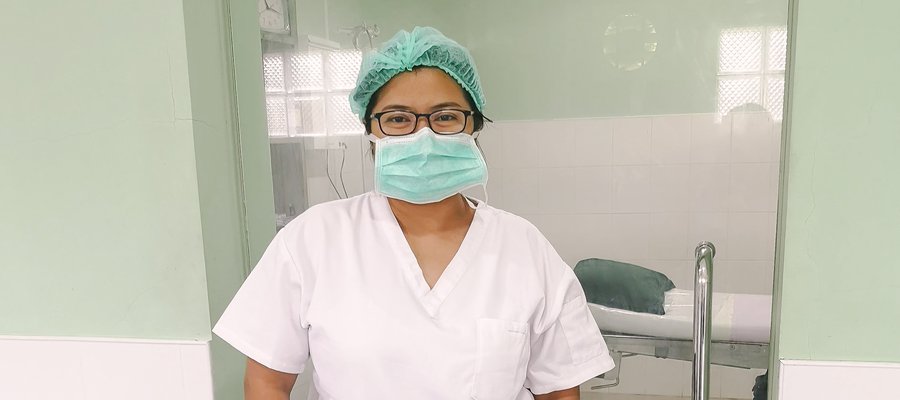 Covid-19 has been an incredible challenge for billions of people all over the world; it has been a moment of sadness, of stress, and of adapting. Our team in Myanmar have been doing just that: adapting. Their efforts to adapt have led them to evolutions in their work that could have positive repercussions in Myanmar and countries worldwide for years to come. 
People affected by leprosy faced being cut off
As travel restrictions were put in place across Myanmar in response to Covid-19, people affected by leprosy were cut off from the medical and social support that they needed. Our team was forced to respond.
Very soon after the lockdown experience began in Myanmar, the team began looking at ways to stay in touch with those people they support. Over the last four months, they have reached out to hundreds of people through Zoom, Skype, SMS, Facebook Messenger, and over the phone. They have also upskilled community members and church communities so that support is no longer dependent on TLM Myanmar's staff being present.
They found new approaches to all areas of their work
The team spent a lot of time developing new ways to adapt to each area of our work. For example, physiotherapists are now supporting people remotely, through video calling. For some people, this video calling isn't possible because they don't have a strong internet signal. In these instances, volunteers from local churches are visiting the person to get video footage of the problem and then emailing it to the physiotherapist, who can advise.
Church members have also received training through Zoom so that they are able to support basic physiotherapy work themselves.
Dr Aung Htet is part of the programme and he believes this approach has had a powerful effect for people affected by leprosy and for churches,
"When lockdown happened, churches had to close their doors and church leaders lost some of their sense of purpose as they could not do their jobs. Because of this leprosy and disability inclusion online training, they are now equipped to help some of the most vulnerable members of their community."
Reaching out to people who needed immediate support
Many people affected by leprosy in Myanmar saw their livelihoods taken away from them because of lockdown. Our team had to step in or people risked going hungry because they could not access food.
The team reached out to people affected by leprosy and persons with disability across whatever channel worked for them. Many people in Myanmar have Facebook Messenger. Through this channel, our staff were able to find out if people were struggling to access food and were able to provide support.
They have also been able to connect people with our jobs coaches, who are able to support people who are struggling with their livelihoods at this time.
This approach could be replicated worldwide
Many of the countries affected by leprosy are facing similar challenges with Covid-19 and, even after the pandemic has passed, many people affected by leprosy will still be living in remote, hard to reach areas.
What our team in Myanmar has learnt over the last months could have repercussions worldwide for years to come. The team believes that what they've experienced over the last few months could be replicated elsewhere.
Dr Aung Htet expands,
"Other countries have their own contexts and challenges, and our work would need to be adapted for their context, but it's definitely possible. By using the technologies available to us, we have been able to reach people that would have been hard to reach before. By training and empowering local communities to handle problems, we have also set up these communities to have long term networks of support. These basic principles could absolutely be replicated elsewhere, and in many places, already are.
"We have been monitoring the impact we've been having so that we can learn from this experience. We hope that we'll have information and knowledge that can be shared with people fighting leprosy across the world."
These innovations in Myanmar have great potential and there are many opportunities to learn and grow from this experience as we constantly seek new ways to end leprosy.