Joaquina, an entrepreneurial farmer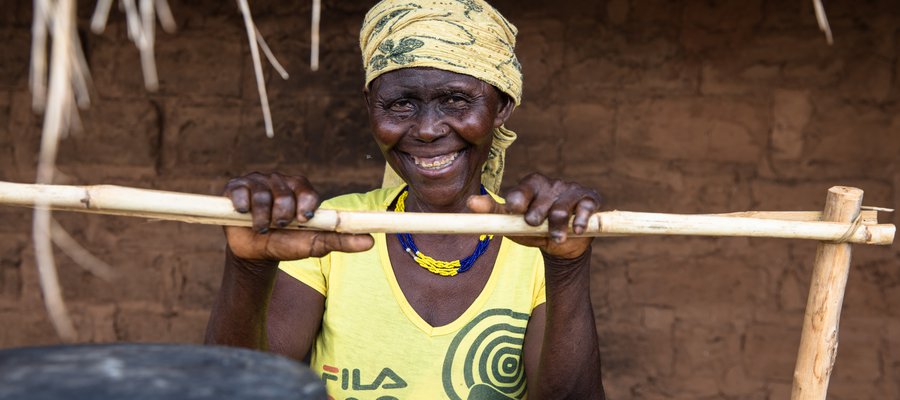 Joaquina is from Mozambique and has 8 children and 5 grandchildren. Sadly, her husband died many years ago and she now lives on her own.
She first started to notice the symptoms of leprosy many years before. She didn't know anything about leprosy in those days and the disease spread quickly enough for her to lose her fingers before the disease was diagnosed.
Joaquina faced stigma because of leprosy
Her neighbours in the village responded badly to Joaquina's symptoms. She was told she was not wanted and was forced to live on the edge of the village. People wouldn't speak to her or respond when she addressed them. Thankfully, her husband stayed with her, when many husbands may have left.
Over time, the stigma in her village disappeared as The Leprosy Mission provided education and raised awareness of the disease. They also diagnosed Joaquina and provided her with Multi-Drug Therapy, which is the cure for leprosy.
Joaquina's husband died a short time after this and she was left to raise their eight children. Her only source of income was farming. This was particularly hard for Joaquina because the disabilities caused by leprosy made it much harder to work in the field.
Joaquina turned her farm around and has bought more farmland
Joaquina's life changed for the better when she joined TLM's Farming School. She learnt sustainable farming methods, such as mulching, planting in rows, thinning plants at the right time, and avoiding traditional but harmful practices like burning the field. All of this has made a big difference in the yield and quality of her produce.
By using these practices so well, Joaquina has seen much success. She now grows maize and beans and sells these at the market. She also joined the savings and loans group, which encourages farmers to save some of their income and gives micro-loans to members in need. Through this she has been able to save money for the first time in her life, which allowed her to purchase another field not too far from her village.
Last year she hired some workers to help her with the farming. She has even bigger plans for the next season. Now that it is becoming more and more difficult to work in the field due to her age and disability, Joaquina is planning to purchase more land and hire more workers. Through this, she hopes to live a comfortable, semi-retired life as well as providing jobs for local people. Through hard and intelligent work, Joaquina has come a long way since the days when she was sent to the edges of her village.